Troop Travel With Google Maps
Enhancing Group Travel Experience with Real-time Position Tracking and Group Coordination
The project aims to develop a new feature for Google Maps that allows users to travel in groups and track each other's location in real time. This feature will enhance the overall user experience by enabling seamless coordination and ensuring the safety of group members during their journeys.
It can be challenging to keep track of everyone's location when travelling with friends, especially when visiting new places.
The goal of this case study is to design and develop a comprehensive group travel feature within Google Maps. By addressing the existing problem, we aim to enhance user experience, improve coordination among group members, and provide a seamless and enjoyable journey for users traveling together.
Members of the group can become dispersed or lost without an effective means of communication, which would cause delays and frustration. It can also be difficult to coordinate group activities and navigate to the next place in the absence of real-time position tracking.
To understand the pain points and needs of group travelers, we conducted user interviews, surveys, and observations. Key findings included
of respondents faced challenges in keeping the group together during trips
desired a more efficient way to coordinate activities and share information
expressed concerns about safety and navigation in unfamiliar places.
Marketing Manager | 7 Years Experience
Sarah is a social butterfly who loves traveling with her friends. She has a busy work schedule but always makes time for her friends to take weekend getaways and explore new destinations. Sarah enjoys being organized and in control, especially when traveling in a group, but sometimes finds it challenging to keep track of everyone's location and coordinate group activities.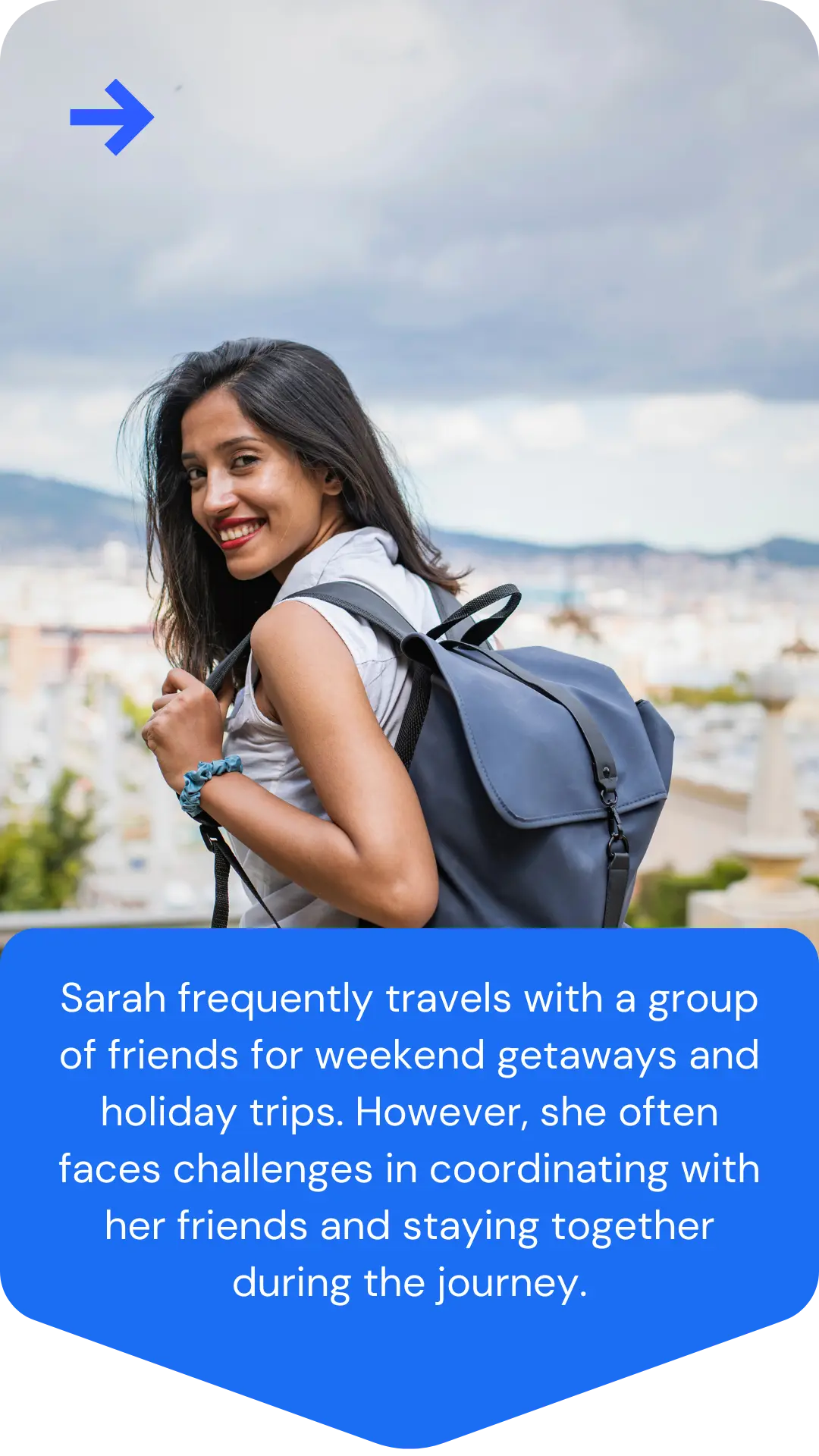 Software Developer | 7 Years Experience
John is a tech-savvy traveler who loves exploring new destinations with his group of friends. He values spontaneity and adventure but also wants to ensure that the group stays safe and organized. John has a busy work schedule and often travels during weekends, making it challenging to coordinate group activities and stay connected with his friends.
Group Creation and Selecting Location
Users can create a group and invite others to join, providing a seamless way to establish a travel community.
Invitation and Trip Scheduling
Invite other users to join the group by sharing a unique code and Scheduling the trip with more notification.
Trip Scheduling and Sharing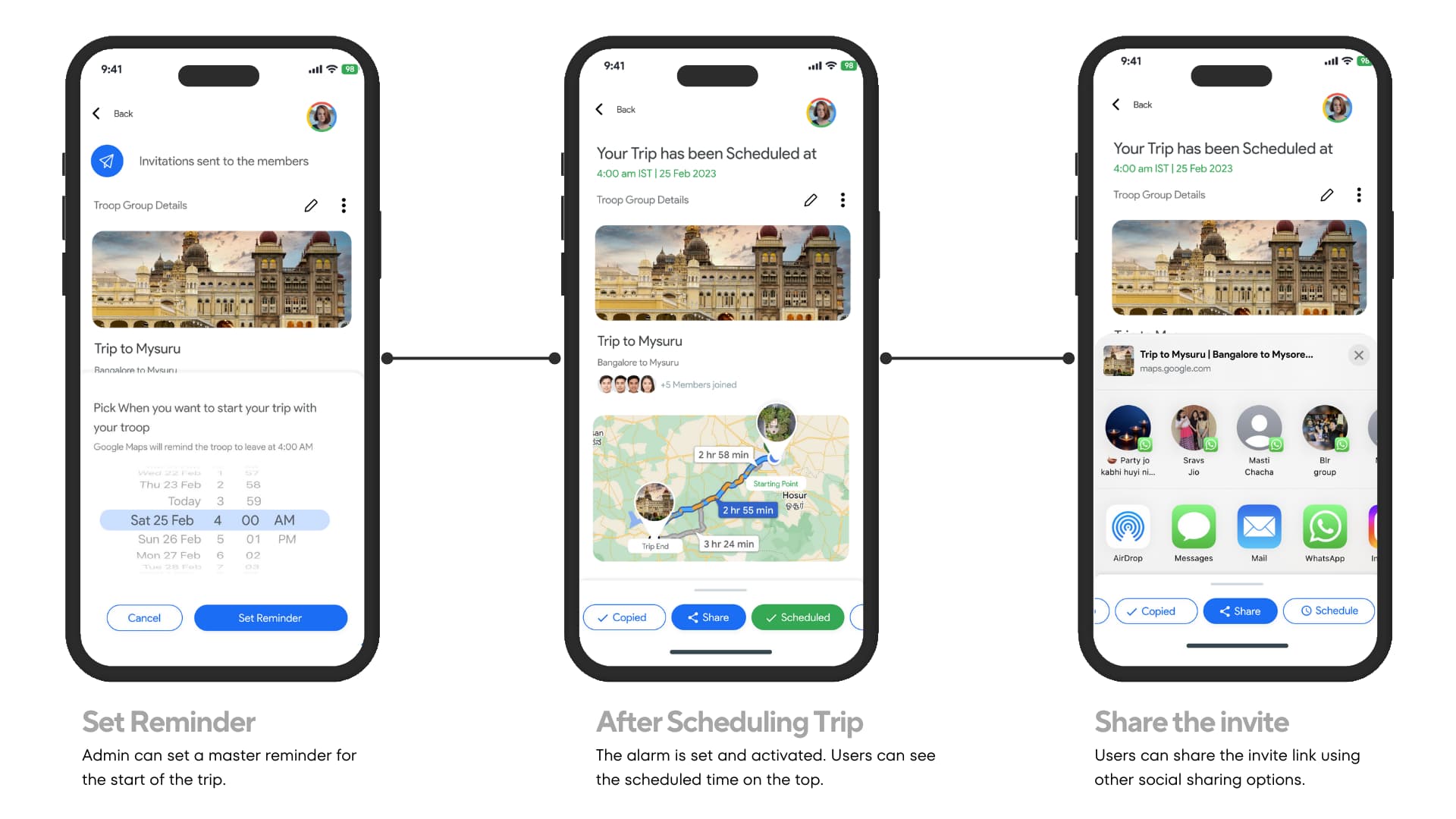 Real-time Location Sharing
Real-time Location Sharing: Users can share their real-time location with the group, and the app displays the live location of all members on a map.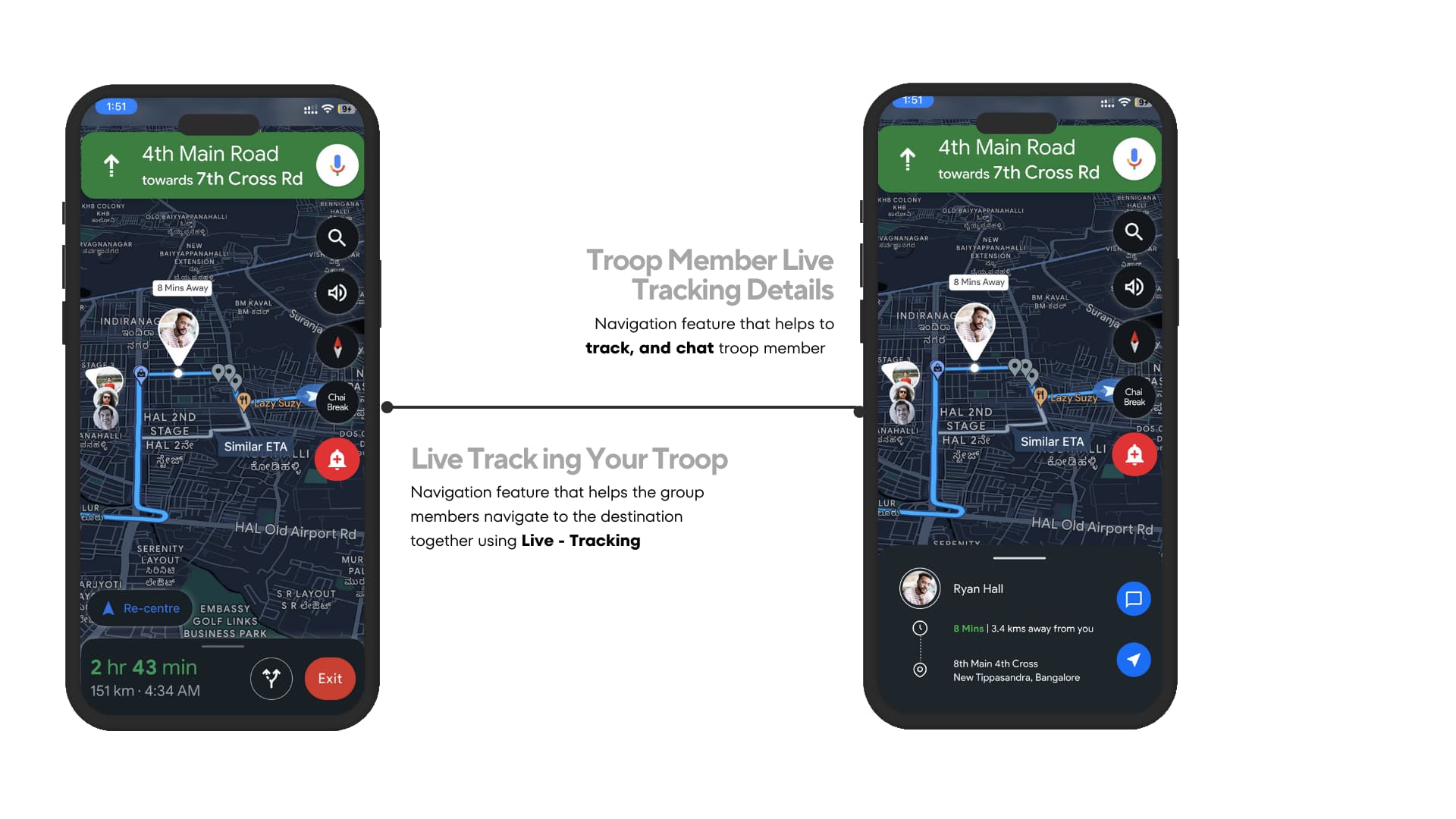 Notifications and Messaging
Users (Invitees) receive notifications when a group is created by the admin. A notification is also activated if a member deviates from the route. Also it enables quick communication and adjustment of plans.
The group travel feature automatically archives trip details, allowing users to review past journeys and reference them in the future.
The introduction of the group travel feature in Google Maps has significantly improved coordination, communication, and safety for users traveling in groups. The seamless integration, intuitive design, and customization options have made it a valuable addition to the Google Maps ecosystem, enhancing the overall group travel experience for users.